Past Concerts
Christmas Concert 2019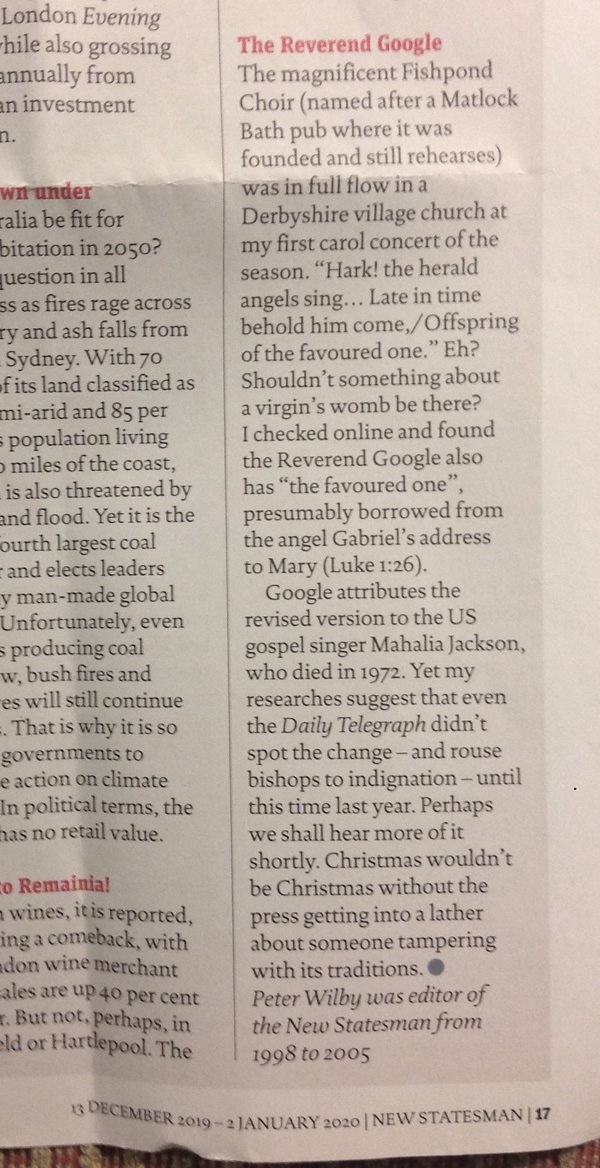 Review by Peter Wilby
With my wife, I enjoyed a wonderful evening on 6 December at the lovely 12th century St Helen's Church in Darley Dale, where the Fishpond choir performed with infectious enthusiasm in their Christmas concert. Led by their charismatic conductor and leading soloist, Dana de Waal, this "community choir" - drawn from Matlock Bath and its environs - sang with harmony, passion and sometimes humour. The eclectic combination of familiar carols, such as Once in Royal David's City and Silent Night, with less well-known pieces from Africa and elsewhere made it an absorbing evening. We particularly enjoyed Gaudete and Feliz Navidad as well as the red wine served at the interval! The performers thoroughly deserved the long ovation at the end.
Peter Wilby is a former editor of the New Statesman (see article, right)
---
Christmas concerts 2018
The first of our Christmas concerts and was in aid of Community Care at the Glebe Centre in Crich where Fishpond Choir was enthusiastically received by a capacity audience. The second was at the Town Hall in Bakewell, quite a grand hall filled with family and friends as well as supporters.
Our Musical Conductor put together a varied programme with local carols and songs from around the world, spanning six centuries, the earliest being Quem Pastores with the trio of Gwenna Carless, Annie McClimont and Helen Boyce. Familiar traditional carols were interspersed with local Eyam carols such as the Bradda and Curly Hark. Songs from film and theatre, including Walking in the Air and Winter Wonderland with soloist John Houghton, set the scene for a sparkly magical Christmas. There were original compositions and arrangements of well known pieces.
Audience participation was enjoyed, especially to the arrangement of Moving Peace(Silent Night), in counterpoint along with our soloist Joe Brown. The choir wished the audiences a Merry Christmas with with a rendition of Feliz Navidad
Haddon Hall
It is always a joy to be asked to sing in such a glorious venue as the mediaeval Hall at Haddon, with festive decorations and blazing log fire. It the smallest concert venue where we perform, with a reduced choir of twenty five.
The proximity of singers and audience makes for an immersive experience, where the sound is felt as well as heard. This was especially so when Dana de Waal sang O Holy Night.
A selection of carols and songs from our Christmas programme was well received by the audience who enjoyed their participation in some traditional carols. We received a standing ovation for both concerts.
September 2018: St Barnabus Centre, Danesmoor
The Trefoil Guild booked this charity fundraiser for Riding for the Disabled. The concert was well supported and there was an enthusiastic and generous audience. It was evident in our rehearsal that the hall had excellent acoustic qualities. With a good proportion of songs being of African origin, the sound of the accompanying drumming and percussion reverberated throughout the hall, producing an amazing atmosphere. Songs such as Kalinka and Havah Nagilah which have energy and building pace were balanced by other compositions such as the three Thomas Hardy poems set to music by Dana de Waal and Reflections by Alan Bernard. The element of fun was evident in The Banana Boat Song and La Bamba, with accompanying animated singing by Simon Northcott. You'll Never Walk Alone with a solo by Dana de Waal, demonstrated a richness and emotion that was a powerful end to the concert. (Although we did at least two encores.)